Erection problems – why do men avoid treatment?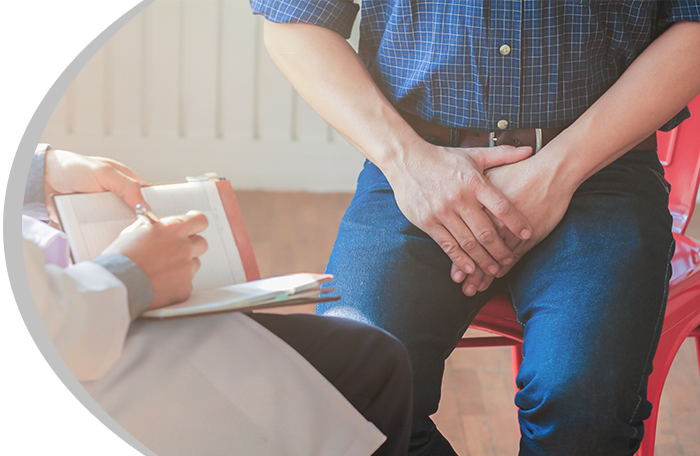 While attitudes to men's health have changed in recent years, there's still room for improvement. That's definitely the case with erectile dysfunction (ED), a condition estimated to affect around 300,000 kiwi blokes . To make matters worse, it's also estimated a whopping three quarters don't receive treatment1. So what's holding men back from getting help for their ED? Well, here's the more common excuses….
"I don't like doctors."
Unless we're on death's door a lot of men are happier with their head in the sand than in the waiting room, especially if it's to talk about ED. The irony is that ED is often a sign of a more serious medical problem like high cholesterol, heart disease, diabetes or high blood pressure. Get your ED issues looked at for this reason alone.
"I don't have a doctor."
You probably do but being a man you also probably don't see them enough to have built a strong relationship. If you're starting from scratch, find someone you trust and the best people to ask are usually friends and family.
"I don't have time."
There are around 8,766 hours in a year and you want to save … two? Wouldn't you rather get to the bottom of what's causing your ED and treat it than worry about saving a couple of hours?
"I don't want to spend the money."
What is the price for peace of mind? Yes, consultations with health care professionals aren't usually free but surely that cost is offset by the fact you'll be taking a big step towards not only better understanding the problem but hopefully getting it treated at the same time.
"I don't want to hear what I might be told."
Maybe you smoke or drink too much, or have put on weight. You can deny it all you want but your doctor or pharmacist won't. That's a good thing. Their job is to tell you the truth, warts and all. So be smart and use the opportunity as a fact finding mission to help you live a healthier life.
"I've got probe-a-phobia."
Relax. All your doctor or prescribing pharmacist will do is take a blood pressure reading, take your pulse and ask a few questions about your general health and wellbeing. If they think what's causing your ED is something more serious, you can cross that bridge later.
"I can fix it myself."
If your ED is the result of an unhealthy lifestyle, cleaning up your act could easily help. Just remember you don't have to be a solo warrior about it. Your doctor or pharmacist could help speed the process considerably, at least in terms of treatment options.
"I'm not sure I have ED."
It's easy to think if you can muster up an erection you don't have ED. Not so. ED is defined as the inability to get or maintain an erection long enough for satisfying sex. Some men get out of the gates fast but fade down the home stretch. Some never really get going to begin with. Everyone's different. Just keep in mind not getting or maintaining an erection on occasion doesn't automatically spell ED. If it's consistently happening that's when you might need treatment.
"My mates will find out."
Perhaps your buddies will stumble across your ED prescription but it's just as possible one of them has a prescription too. ED is a medical issue that approximately 40% of men between 40 – 70 years old will experience1. So don't panic about being found out. The topic of ED has come a long way from when you were a teenager.
Can Viagra® help?
Viagra® was the first of its kind, a 'PDE5 inhibitor' that works by relaxing muscles in blood vessel walls, helping increase blood flow to the penis. This makes it easier to get and maintain an erection. Commonly referred to as the original 'little blue pill', for over 20 years Viagra® has helped millions of men around the world treat erectile dysfunction. If you think Viagra® could help, make an appointment with your doctor or prescribing pharmacist. They'll have a better idea of what's causing your ED and if it's right for you, prescribe the one and only Viagra®.
To find out more about ED or to see a doctor or prescribing pharmacist about getting Viagra®, click here.
TAPS NP18303
1. Quilter M et al. Male Sexual Function in New Zealand. Journal of Sexual Medicine. Oct 2014; 14:928-936.
BACK TO BLOGS